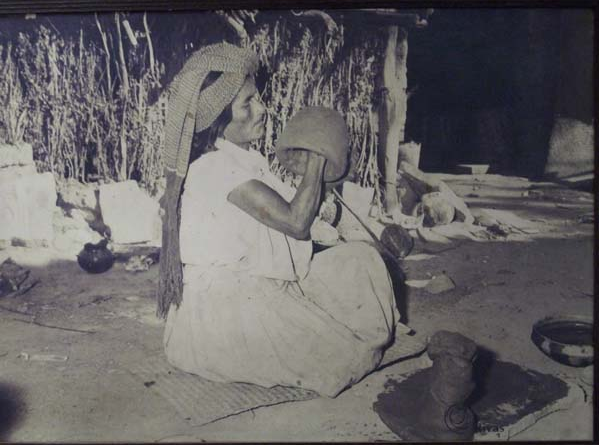 The Woman who Invented Barro Negro (Black Pottery)
The barro negro (black pottery) tradition in Oaxaca, Mexico, dates to the early 1950s, although its predecessor, the grey, utilitarian cántaro of San Bartolo Coyotepec has a tradition going back a couple of thousand years. The most common pottery form in the area, known as the cántaro, had been used for carrying and storing water, mezcal, milk and other liquids, for generations. Then in the early 1950s, a humble, personable woman named Doña Rosa Real, together with her husband Juventino Nieto, by chance developed an innovation to its appearance and functionality; if the pot, before firing, was rubbed with a piece of clear quartz, and then baked for only eight or nine hours rather than the traditional 13 or 14 hours, the result would be a shiny, black cántaro, purely decorative and unable to retain liquids without discoloration and filtration. Between the 1950s and the early 1960s, everyone else in the village continued to produce their grey functional pottery, while Doña Rosa and family toiled away with what became known as barro negro (black pottery). She developed a following of foreigners who collected Latin American folk art, including the likes of Nelson Rockefeller.
More travelers began to travel to Oaxaca and visit San Bartolo Coyotepec. The market for barro negro thereby increased substantially. Virtually every potter in the village began burnishing his pieces with quartz, and removing them from the kiln "prematurely," out of economic necessity and a burgeoning tourist market.

Increased tourism meant that even with other villagers copying Doña Rosa's technique, the economic fortunes of her family were not significantly adversely impacted. On the contrary, some 30+ years after Doña Rosa's death, her family still retains a healthy market share of tourist dollars spent on barro negro.
We at Spanglish Boutique have partnered with Micaela P. in San Baratolocoyotepec, Oaxaca to offer you your very own pieces of Black Pottery!