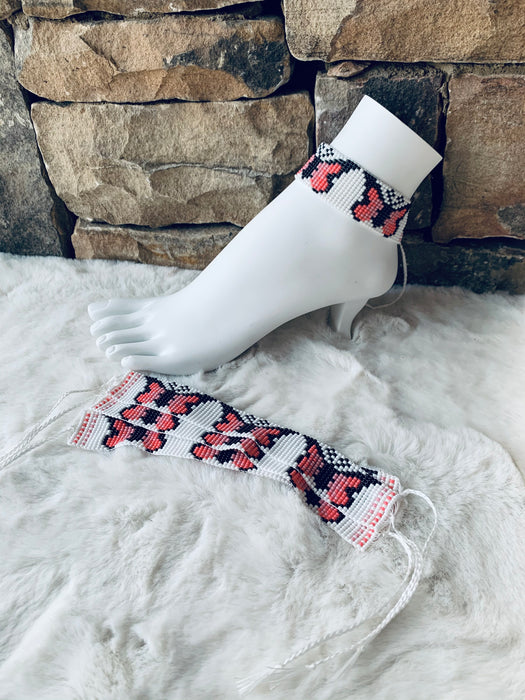 Pink Butterfly Anklet
Save

0

%
Save %
Original price
$17.50
-
Original price
$17.50
Introducing Our Hand-Beaded Blue Butterfly Anklet, a captivating and unique piece of jewelry that combines the beauty of nature with artisanal craftsmanship. This anklet is designed to adorn your ankle with a delicate strand of shimmering blue butterflies, each meticulously handcrafted using plastic beads to form a stunning image. Here's what makes this anklet a must-have accessory:
Intricate Blue Butterflies: The focal point of this anklet is the exquisite blue butterfly design. Crafted with meticulous attention to detail, these butterflies come to life with their vivid blue hues, delicate patterns, and iridescent accents. The use of plastic beads allows for intricate and realistic imagery, ensuring that each butterfly is a miniature work of art.
Adjustable Length: The Hand-Beaded Blue Butterfly Anklet measures a comfortable 15 inches in length, making it perfect for most ankle sizes. The anklet features tie-on ends, allowing you to easily customize the fit for your comfort. Simply tie a knot to secure it in place, and let the extra ends dangle for a touch of boho chic style.
Handcrafted Artistry: Our skilled artisans pour their passion and creativity into crafting each anklet. They meticulously hand-string the plastic beads to create the butterfly design, ensuring that every piece is unique and carries a piece of their artistry.
Lightweight and Comfortable: Made from lightweight plastic beads, this anklet is a breeze to wear all day long. It won't weigh you down or feel uncomfortable, making it the perfect accessory for casual outings, beach trips, or summer festivals.
Versatile and Eye-Catching: The Hand-Beaded Blue Butterfly Anklet effortlessly complements a wide range of outfits, from jeans and shorts to sundresses and swimwear. Its vibrant blue butterflies catch the light and draw attention to your ankles, adding a touch of whimsy and elegance to your look.
Nature-Inspired Beauty: Bring the beauty of nature to your everyday life with this butterfly anklet. It's not just a piece of jewelry; it's a symbol of transformation, growth, and the wonder of the natural world.
Gift-Ready Packaging: Whether you're treating yourself or surprising someone special, this anklet comes in a charming package that makes it an ideal gift for birthdays, anniversaries, or as a token of friendship and appreciation.
Elevate your style with a touch of enchantment – the Hand-Beaded Blue Butterfly Anklet. Embrace the beauty of these winged wonders, and let them flutter around your ankle as a symbol of grace and transformation. Order yours today and make every step a work of art.
Size: 15 inches long from end to end, 7 inches from start bead to end bead.