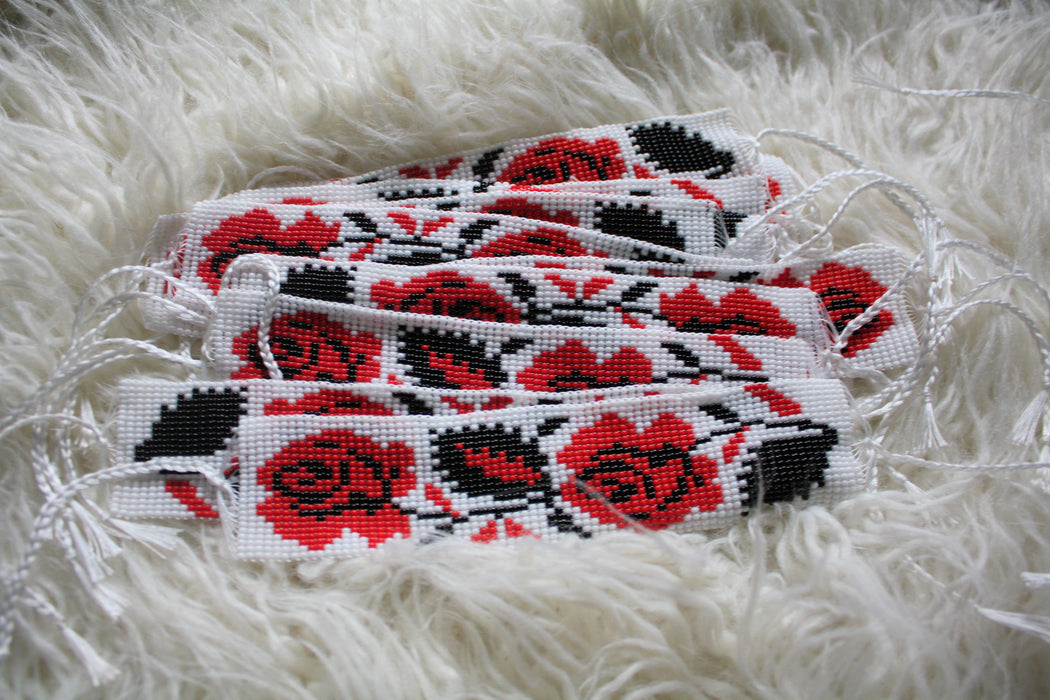 Mexican Beaded Rose Anklet
Save

0

%
Save %
Original price
$17.50
-
Original price
$17.50
Adorn your ankle with timeless beauty and sophistication with our Hand-Beaded Rose Bud Anklet. This exquisite piece of jewelry is a harmonious fusion of nature's grace and artisanal craftsmanship. Crafted with meticulous attention to detail, this anklet features a series of delicate rose buds, each meticulously handcrafted using plastic beads to create a stunning image that celebrates the beauty of nature.
Intricate Rose Bud Design: The focal point of this anklet is the stunning series of rose buds, each intricately hand-beaded to capture the essence of a blossoming garden. The use of plastic beads allows for intricate detailing, making each rose bud a miniature work of art. The delicate shades of pink and green add a touch of femininity and elegance to your ankle.
Adjustable Length: The Hand-Beaded Rose Bud Anklet measures a comfortable 15 inches in length, ensuring it fits most ankle sizes. The anklet features tie-on ends, allowing you to easily customize the fit for your comfort. Simply tie a knot to secure it in place, and let the extra ends drape gracefully for a touch of boho chic style.
Artisanal Craftsmanship: Our skilled artisans pour their passion and creativity into crafting each anklet. They painstakingly hand-string the plastic beads to create the intricate rose bud design, ensuring that every piece is unique and carries a piece of their artistry.
Lightweight and Comfortable: Made from lightweight plastic beads, this anklet is designed for all-day comfort. It won't weigh you down or cause discomfort, making it the perfect accessory for casual outings, beach days, or summer festivals.
Versatile Elegance: The Hand-Beaded Rose Bud Anklet complements a wide range of outfits, from jeans and shorts to sundresses and formal attire. Its timeless design adds a touch of classic elegance to your look, making it suitable for any occasion.
Celebrate Nature's Beauty: Embrace the beauty of nature with this anklet that symbolizes the delicate and fleeting nature of roses in full bloom. It's a reminder of the beauty that surrounds us and a symbol of grace and femininity.
Gift-Ready Packaging: Whether you're treating yourself or surprising someone special, this anklet comes in elegant packaging, making it an ideal gift for birthdays, anniversaries, or as a gesture of friendship and appreciation.
Enhance your style with the Hand-Beaded Rose Bud Anklet, a graceful accessory that encapsulates the timeless beauty of roses. Add a touch of nature-inspired elegance to your everyday look and celebrate the essence of blooming gardens wherever you go. Order yours today and wear the beauty of roses around your ankle.
15 inches long from end to end; 7 inches from start bead to end bead.